Article
VSETKOvKLUDE
Redactor
Milujem Slovensko - kvíz 2 (Political)
Posted 11 months ago by
VSETKOvKLUDE
Report
Zdravím Vás vážení spoluobčania!
Po "obrovskom úspechu" nášho prvého kola, som sa rozhodol dať dnes trochu ťažšiu otázku, aby aj MayXo musel trochu potrápiť závity. Našich národných dejateľov a hrdinov poznáme všetci veľmi dobre, preto je na čase, aby sme spoznali tých, na ktorých sa ľahko zabúda. Ide o Slovákov, ktorí emigrovali do zahraničia a robili tam Slovensku dobré meno!
Americký prezident Donald Trump sa veľmi rád oháňa floskulou, že Spojené štáty americké sú tou najlepšou a najmocnejšou krajinou na svete, no zabúda pritom, že do dnešnej podoby ju svojou tvrdou prácou vybudovali prisťahovalci z celého sveta. Áno, presne takí prisťahovalci, proti ktorým dnes chce stavať múr na hranici s Mexikom za 4 mld. USD. My Slováci, máme medzi nimi početné zastúpenie, keďže z ekonomických dôvodov sa ľudia húfne sťahovali z chudobných oblastí Slovenska najmä do Ameriky. Nespravili nám v šírom svete hanbu, ako dedo súčasného prezidenta Friedrich Drumpf, ktorý zbohatol na prevádzkovaní salónu (rozumej putike) s bordelom (nerozumej neporiadok)...
Pod pojmom hrdina si predstavíte človeka, ktorý vykonal niečo monumentálne, čo sa zapíše do dejín, no hrdinami medzi nami sú ľudia, ktorí sú každodenne prospešní spoločnosti najlepšie ako vedia, bez ohľadu na nepriaznivé okolnosti, ktoré prináša život. Do dnešného kvízu som preto vybral 3 obyčajných ľudí - Slovákov, ktorí svojou tvrdou prácou a cieľavedomosťou prispeli k rozvoju a blahobytu USA, čoby svetovej veľmoci, Vašou úlohou bude napísať ich občianske meno, miesto a dátum narodenia:
1. Prvý Slovák v NHL
Mnohí z nás si myslia, že prvým Slovákom, ktorý sa presadil v NHL je Peter Šťastný, no nie je to celkom pravda. Prvým hráčom v NHL sa stal Kanaďan slovenského pôvodu, ktorého rodičia ako 8-ročného chlapca poslali za tetou a strýkom do Kanady, kde vyrástol, trénoval a hral ľadový hokej. V roku 1956 nastúpil na svoj prvý profesionálny zápas NHL v drese Chicago BlackHawks
2. Hrdina z ostrova Iwo Jima
Narodil sa rusínskym rodičom, s ktorými ako 6-ročné dieťa odišiel do USA. Po stredoškolskom štúdiu sa prihlásil do americkej námornej pechoty. Slávnym sa stal vďaka záberu vojnového reportéra Joea Rosenthala, ktorý zachytáva vztyčovanie americkej vlajky na vrchu Suribachi sopečného ostrova Iwo Jima
3. Obed na vrchole mrakodrapu
Mojím najobľúbenejším hrdinom z ľudu je "maník", ktorý odišiel do USA za prácou, pričom keď sa lúčil so svojou ženou Mariškou, ani netušil, že sa raz objaví na najznámejšej fotografii New Yorku, ktorá obletí celý svet. Maník preto, lebo Slováka na fotke spoznáte podľa fľašky pálenky v ľavej ruke 800 stôp (ak dobre rátam nejakých 240 metrov) nad zemou bez istenia, nedbajúc na nejaké trápne predpisy BOZP. Tobôž sa ho v takej výške nijako nedotkla prohibícia, ktorá v USA v roku 1932 vrcholila. Možno aj takým spôsobom prispel Slovák k jej ukončeniu v roku 1933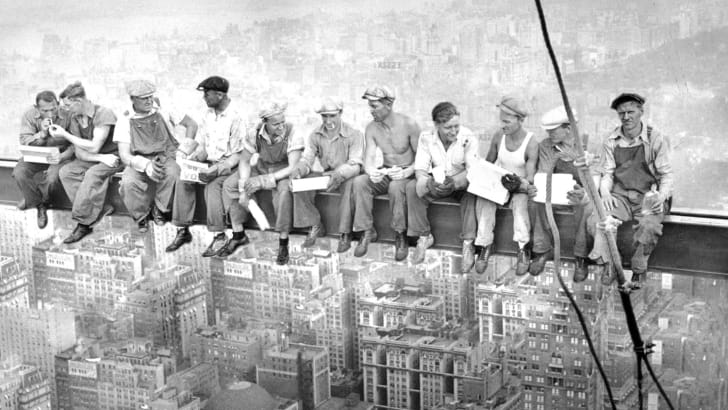 Dúfam, že ste sa pobavili, trochu poučili a Vaše odpovede čakám v komentároch vo forme:
1. meno a priezvisko, miesto a dátum narodenia
2. meno a priezvisko, miesto a dátum narodenia
3. meno a priezvisko, miesto a dátum narodenia
Krásny týždeň Vám praje
VSETKOvKLUDE
Previous article:
Milujem Slovensko!
(1 year ago)
About the game:
USA as a world power? In E-Sim it is possible!
In E-Sim we have a huge, living world, which is a mirror copy of the Earth. Well, maybe not completely mirrored, because the balance of power in this virtual world looks a bit different than in real life. In E-Sim, USA does not have to be a world superpower, It can be efficiently managed as a much smaller country that has entrepreneurial citizens that support it's foundation. Everything depends on the players themselves and how they decide to shape the political map of the game.
Work for the good of your country and see it rise to an empire.
Activities in this game are divided into several modules. First is the economy as a citizen in a country of your choice you must work to earn money, which you will get to spend for example, on food or purchase of weapons which are critical for your progress as a fighter. You will work in either private companies which are owned by players or government companies which are owned by the state. After progressing in the game you will finally get the opportunity to set up your own business and hire other players. If it prospers, we can even change it into a joint-stock company and enter the stock market and get even more money in this way.
In E-Sim, international wars are nothing out of the ordinary.
"E-Sim is one of the most unique browser games out there"
Become an influential politician.
The second module is a politics. Just like in real life politics in E-Sim are an extremely powerful tool that can be used for your own purposes. From time to time there are elections in the game in which you will not only vote, but also have the ability to run for the head of the party you're in. You can also apply for congress, where once elected you will be given the right to vote on laws proposed by your fellow congress members or your president and propose laws yourself. Voting on laws is important for your country as it can shape the lives of those around you. You can also try to become the head of a given party, and even take part in presidential elections and decide on the shape of the foreign policy of a given state (for example, who to declare war on). Career in politics is obviously not easy and in order to succeed in it, you have to have a good plan and compete for the votes of voters.
You can go bankrupt or become a rich man while playing the stock market.
The international war.
The last and probably the most important module is military. In E-Sim, countries are constantly fighting each other for control over territories which in return grant them access to more valuable raw materials. For this purpose, they form alliances, they fight international wars, but they also have to deal with, for example, uprisings in conquered countries or civil wars, which may explode on their territory. You can also take part in these clashes, although you are also given the opportunity to lead a life as a pacifist who focuses on other activities in the game (for example, running a successful newspaper or selling products).
At the auction you can sell or buy your dream inventory.
E-Sim is a unique browser game. It's creators ensured realistic representation of the mechanisms present in the real world and gave all power to the players who shape the image of the virtual Earth according to their own. So come and join them and help your country achieve its full potential.
Invest, produce and sell - be an entrepreneur in E-Sim.
Take part in numerous events for the E-Sim community.