Article
Haruka`
Redactor
TOP 5 beautiful places in Greece (Fun)
Posted 6 months ago by
Haruka`
Report
Which country would you like the next?
58.82 %
Italy
23.52 %
Taiwan
17.64 %
Tunisia
Total votes: 17
Top 5 beautiful places in Greece .
Official languages
Greek
Ethnic groups
98% Greeks
2% Turks, Macedonian Slavs, Albanians, Armenians, Bulgarians, Jews, and Vlachs
Religion
Eastern Orthodoxy (90%)
Other Christians (exc.Catholics) (3%)
Irreligion (4%)
Islam (2%)
Other religions (inc.Catholics) (1%)
Area
131,957 km2
Population
10,768,477
1. Athens
▔▔▔▔▔▔▔▔▔▔▔▔▔▔▔▔▔▔▔▔▔▔▔▔▔▼▔▔▔▔▔▔▔▔▔▔▔▔▔▔▔▔▔▔▔▔▔▔▔▔▔


Inhabited for more than 3,000 years, Athens is widely known as the cradle of Western civilization and the birthplace of democracy. The city presents a confusing blend of historical and modern features. Athens is famous for its archaeological ruins and monuments such as the famous Acropolis, the Parthenon, the Ancient Agora and the Theatre of Dionysos just to name a few. However, Athens is not just about ancient ruins. This bustling city is also an important center for business, culture and nightlife.

▔▔▔▔▔▔▔▔▔▔▔▔▔▔▔▔▔▔▔▔▔▔▔▔▔▲▔▔▔▔▔▔▔▔▔▔▔▔▔▔▔▔▔▔▔▔▔▔▔▔

2. Crete

▔▔▔▔▔▔▔▔▔▔▔▔▔▔▔▔▔▔▔▔▔▔▔▔▔▼▔▔▔▔▔▔▔▔▔▔▔▔▔▔▔▔▔▔▔▔▔▔▔▔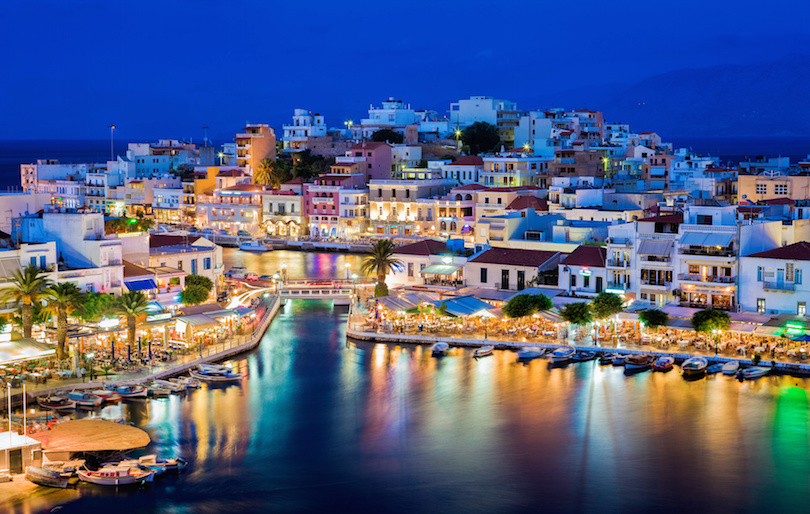 The largest of the Greek islands, Crete is a spacious land of pleasing contrasts where landscapes range from stunning coastline to rugged mountains and rolling countryside dotted with olive trees. Bustling metropolitan cities spread beyond to quiet villages centered around outdoor coffee shops. Steeped in history, Crete still bears archaeological traces of the many civilizations that inhabited it down through the centuries.


▔▔▔▔▔▔▔▔▔▔▔▔▔▔▔▔▔▔▔▔▔▔▔▔▔▲▔▔▔▔▔▔▔▔▔▔▔▔▔▔▔▔▔▔▔▔▔▔▔▔

3. Meteora

▔▔▔▔▔▔▔▔▔▔▔▔▔▔▔▔▔▔▔▔▔▔▔▔▔▼▔▔▔▔▔▔▔▔▔▔▔▔▔▔▔▔▔▔▔▔▔▔▔▔



The Greek word meteora means "suspended in the air," and this phrase aptly describes the spectacular cliffs that rise more than 1,200 feet (366 meters) into the air overlooking the villages of Kalambaka and Kastraki in the north central mainland of Greece. What makes these cliffs even more inspiring are the historic monasteries perched along the summits. Dating back to the 14th and 16th centuries, the monasteries at Meteora were built by monks seeking spiritual isolation and freedom from religious persecution.


▔▔▔▔▔▔▔▔▔▔▔▔▔▔▔▔▔▔▔▔▔▔▔▔▔▲▔▔▔▔▔▔▔▔▔▔▔▔▔▔▔▔▔▔▔▔▔▔▔▔

4. Peloponnese

▔▔▔▔▔▔▔▔▔▔▔▔▔▔▔▔▔▔▔▔▔▔▔▔▔▼▔▔▔▔▔▔▔▔▔▔▔▔▔▔▔▔▔▔▔▔▔▔▔▔



Shaped much like a large leaf, Peloponnese was traditionally called Morea, which means mulberry leaf. Located in the southernmost region of both Europe and Greece, Peloponnese is a wide peninsula connected to the mainland by the Rio-Antirrio bridge. Interspersed with classical Greek temples, Venetian fortresses, Byzantine churches and Mycenaean palaces, Peloponnese echoes the ancient cultures and events from its extensive history. Among these ancient ruins is Olympia, where the first Olympic Games were hosted in honor of Zeus.


▔▔▔▔▔▔▔▔▔▔▔▔▔▔▔▔▔▔▔▔▔▔▔▔▔▲▔▔▔▔▔▔▔▔▔▔▔▔▔▔▔▔▔▔▔▔▔▔▔▔

5. Thessaloniki

▔▔▔▔▔▔▔▔▔▔▔▔▔▔▔▔▔▔▔▔▔▔▔▔▔▼▔▔▔▔▔▔▔▔▔▔▔▔▔▔▔▔▔▔▔▔▔▔▔▔



Thessaloniki is Greece's second-largest city and the capital city of the Macedonian region of Northern Greece. Lively festivals, social events and a buzzing nightlife make this city the cultural capital of Greece. Comprised of a historic city center and commercial district, Thessaloniki offers both old and new attractions from its Byzantine walls, White Tower and Turkish baths to colorful food markets, museums and art galleries. Thessaloniki's nightlife is unmatched. From small tavernas to nightclubs and other entertainment venues, Thessaloniki offers it all.


▔▔▔▔▔▔▔▔▔▔▔▔▔▔▔▔▔▔▔▔▔▔▔▔▔▲▔▔▔▔▔▔▔▔▔▔▔▔▔▔▔▔▔▔▔▔▔▔▔▔
Write in comments which is the most beautiful place.
This is it,please support us with ▼▼▼▼▼▼▼▼▼▼▼▼▼▼▼▼▼▼▼▼▼▼▼▼▼▼▼▼▼▼▼▼▼▼▼

Vote&Sub
Taiwan, Italy has been added in poll by suggestion of
yankees
Tunisia has been added in poll by suggestion of
med6
Previous article:
Top 5 beautiful places in Singapore
(6 months ago)
Next article:
TOP 5 beautiful places in Italy
(6 months ago)
About the game:
USA as a world power? In E-Sim it is possible!
In E-Sim we have a huge, living world, which is a mirror copy of the Earth. Well, maybe not completely mirrored, because the balance of power in this virtual world looks a bit different than in real life. In E-Sim, USA does not have to be a world superpower, It can be efficiently managed as a much smaller country that has entrepreneurial citizens that support it's foundation. Everything depends on the players themselves and how they decide to shape the political map of the game.
Work for the good of your country and see it rise to an empire.
Activities in this game are divided into several modules. First is the economy as a citizen in a country of your choice you must work to earn money, which you will get to spend for example, on food or purchase of weapons which are critical for your progress as a fighter. You will work in either private companies which are owned by players or government companies which are owned by the state. After progressing in the game you will finally get the opportunity to set up your own business and hire other players. If it prospers, we can even change it into a joint-stock company and enter the stock market and get even more money in this way.
In E-Sim, international wars are nothing out of the ordinary.
"E-Sim is one of the most unique browser games out there"
Become an influential politician.
The second module is a politics. Just like in real life politics in E-Sim are an extremely powerful tool that can be used for your own purposes. From time to time there are elections in the game in which you will not only vote, but also have the ability to run for the head of the party you're in. You can also apply for congress, where once elected you will be given the right to vote on laws proposed by your fellow congress members or your president and propose laws yourself. Voting on laws is important for your country as it can shape the lives of those around you. You can also try to become the head of a given party, and even take part in presidential elections and decide on the shape of the foreign policy of a given state (for example, who to declare war on). Career in politics is obviously not easy and in order to succeed in it, you have to have a good plan and compete for the votes of voters.
You can go bankrupt or become a rich man while playing the stock market.
The international war.
The last and probably the most important module is military. In E-Sim, countries are constantly fighting each other for control over territories which in return grant them access to more valuable raw materials. For this purpose, they form alliances, they fight international wars, but they also have to deal with, for example, uprisings in conquered countries or civil wars, which may explode on their territory. You can also take part in these clashes, although you are also given the opportunity to lead a life as a pacifist who focuses on other activities in the game (for example, running a successful newspaper or selling products).
At the auction you can sell or buy your dream inventory.
E-Sim is a unique browser game. It's creators ensured realistic representation of the mechanisms present in the real world and gave all power to the players who shape the image of the virtual Earth according to their own. So come and join them and help your country achieve its full potential.
Invest, produce and sell - be an entrepreneur in E-Sim.
Take part in numerous events for the E-Sim community.