Article
Haruka`
Redactor
Top 5 beautiful places in Singapore (Fun)
Posted 6 months ago by
Haruka`
Report
Which country would you like the next?
45.45 %
Greece
27.27 %
Romania
27.27 %
San Marino
Total votes: 22
Top 5 beautiful places in Singapore.
Official languages
English Malay Mandarin Tamil Malay
Ethnic groups
74.3% Chinese
13.3% Malay
9.1% Indian
3.3% Others
Religion
33.2% Buddhism
18.8% Christianity
18.5% No religion
14.0% Islam
10.0% Taoism and
folk religion
5.0% Hinduism
0.6% Others
Area
722.5 km2
Population
5,638,700
1. Singapore Flyer
▔▔▔▔▔▔▔▔▔▔▔▔▔▔▔▔▔▔▔▔▔▔▔▔▔▼▔▔▔▔▔▔▔▔▔▔▔▔▔▔▔▔▔▔▔▔▔▔▔▔▔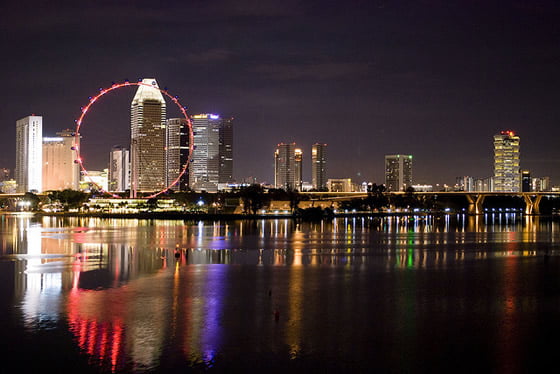 Singapore Flyer, described by its operators as "Flyer Observation Wheel", was the tallest ferris wheel in the world from 2008 until 2014. Standing at a stunning 165m (541 ft.) from the ground, near the shore of Marina Bay, it is 5 m (16 ft.) taller than the Star of Nanchang, in China and 30 m (98 ft.) taller than the London Eye, in England. It is built over immense three-storey complex with restaurants, shopping, and bars.
The Flyer is mounted with 28 air-conditioned capsules, each one the size of a bus, capable of holding 28 passengers. The scenic flight on the Flyer offers you breathtaking 360° views of Singapore's center and beyond to about 45 km (28 mi), including glimpses of the neighboring countries of Indonesia and Malaysia. This ferris wheel rotates slowly and the ride lasts approximately 30 minutes.

▔▔▔▔▔▔▔▔▔▔▔▔▔▔▔▔▔▔▔▔▔▔▔▔▔▲▔▔▔▔▔▔▔▔▔▔▔▔▔▔▔▔▔▔▔▔▔▔▔▔

2. Green Roof at Nanyang Technological University

▔▔▔▔▔▔▔▔▔▔▔▔▔▔▔▔▔▔▔▔▔▔▔▔▔▼▔▔▔▔▔▔▔▔▔▔▔▔▔▔▔▔▔▔▔▔▔▔▔▔



The School of Art, Design and Media at Nanyang Technological University in Singapore has an amazing curving green roof structure, with an organic, vegetated form that blends nature and high-tech and symbolizes the creativity it houses.
The open roofs serve as informal gathering spaces; insulate the building and harvest rainwater for landscaping irrigation. The glass façade reduces solar gain, while allows natural views of the surrounding foliage.
▔▔▔▔▔▔▔▔▔▔▔▔▔▔▔▔▔▔▔▔▔▔▔▔▔▲▔▔▔▔▔▔▔▔▔▔▔▔▔▔▔▔▔▔▔▔▔▔▔▔

3. Gardens by the Bay

▔▔▔▔▔▔▔▔▔▔▔▔▔▔▔▔▔▔▔▔▔▔▔▔▔▼▔▔▔▔▔▔▔▔▔▔▔▔▔▔▔▔▔▔▔▔▔▔▔▔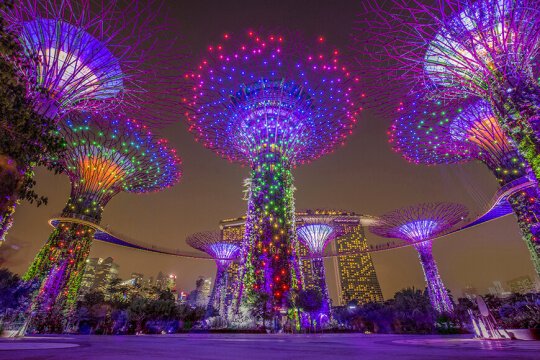 Gardens by the Bay is a surreal green oasis in the heart of Singapore that offers an easy getaway from the city centre traffic and skyscrapers. This horticultural heaven brings plants to life in a way you have never seen before. There you are surrounded by nature whilst feeling like you have stepped into the Avatar movie.

This huge, colorful, futuristic park is famous for its high-tech Supertree Grove – a collection of magical giant trees – as well as Cloud Forest and Flower Dome – the world's largest climate-controlled greenhouses. The garden complex is also home to several outdoor gardens and lakes, such as the scenic Dragonfly & Kingfisher Lakes.

Gardens By The Bay is indubitably a unique attraction many nature-lovers and photographers would look forward to visit. It is located adjacent to Marina Bay Sands, which offers a fantastic aerial view of the entire garden form its Marina Bay Sands Skypark Observation Deck.
▔▔▔▔▔▔▔▔▔▔▔▔▔▔▔▔▔▔▔▔▔▔▔▔▔▲▔▔▔▔▔▔▔▔▔▔▔▔▔▔▔▔▔▔▔▔▔▔▔▔

4. Buddha Tooth Relic Temple and Museum

▔▔▔▔▔▔▔▔▔▔▔▔▔▔▔▔▔▔▔▔▔▔▔▔▔▼▔▔▔▔▔▔▔▔▔▔▔▔▔▔▔▔▔▔▔▔▔▔▔▔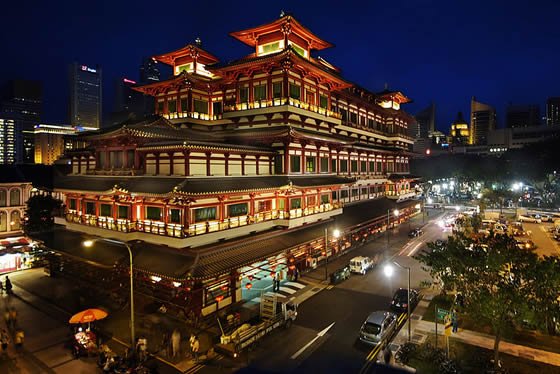 TThe Buddha Tooth Relic Temple and Museum is a four-storey Buddhist temple and museum complex that rises up at the heart of the Chinatown district in Singapore. The temple is based on the Tang dynasty architectural style and built to house the tooth relic of the historical Buddha, which is claimed that was found in 1980 in a collapsed stupa in Myanmar.
From outside the temple is grand, inside it is richly ornate and colorful, but the most significant feature of the temple is the two-meter tall solid gold stupa that weighs 420 kg located at the top floor, in the Sacred Light Hall. It is the Sacred Buddha Tooth Relic Chamber, which is the repository of the sacred Buddha tooth.

▔▔▔▔▔▔▔▔▔▔▔▔▔▔▔▔▔▔▔▔▔▔▔▔▔▲▔▔▔▔▔▔▔▔▔▔▔▔▔▔▔▔▔▔▔▔▔▔▔▔

5. Marina Bay Sands (Skypark)

▔▔▔▔▔▔▔▔▔▔▔▔▔▔▔▔▔▔▔▔▔▔▔▔▔▼▔▔▔▔▔▔▔▔▔▔▔▔▔▔▔▔▔▔▔▔▔▔▔▔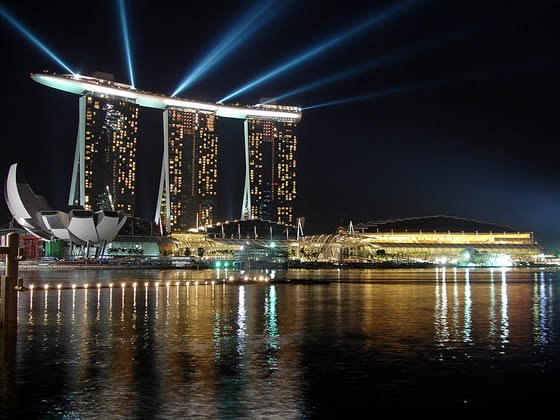 The magnificent Marina Bay Sands is an integrated resort fronting Marina Bay that offers a luxury 2,561-room hotel, an art convention and exhibition center, the Shoppes Mall, an Art & Science museum, two Sands Theatres, seven "celebrity chef" restaurants, two floating pavilions, a nightclub, lounges and a casino with 500 tables and 1,600 slot machines.
The three hotel towers are connected by a 340 meter-long sky terrace on the roof that resembles a ship named Sands SkyPark, . The Skypark is home to restaurants, lush tropical trees and plants and an observation deck, but its highlight is the longest elevated swimming pool in the world, a 150-meter (478-ft.) infinity edged pool, which stands 191 meters from the ground on the 56th floor of the complex building. But do not get too excited, the pool is for exclusive use of the luxury hotel guests.
▔▔▔▔▔▔▔▔▔▔▔▔▔▔▔▔▔▔▔▔▔▔▔▔▔▲▔▔▔▔▔▔▔▔▔▔▔▔▔▔▔▔▔▔▔▔▔▔▔▔
Write in comments which is the most beautiful place.
This is it,please support us with ▼▼▼▼▼▼▼▼▼▼▼▼▼▼▼▼▼▼▼▼▼▼▼▼▼▼▼▼▼▼▼▼▼▼▼

Vote&Sub
Greece has been added in poll by suggestion of
yankees
Previous article:
Top 5 beautiful places in Vietnam
(6 months ago)
Next article:
TOP 5 beautiful places in Greece
(6 months ago)
About the game:
USA as a world power? In E-Sim it is possible!
In E-Sim we have a huge, living world, which is a mirror copy of the Earth. Well, maybe not completely mirrored, because the balance of power in this virtual world looks a bit different than in real life. In E-Sim, USA does not have to be a world superpower, It can be efficiently managed as a much smaller country that has entrepreneurial citizens that support it's foundation. Everything depends on the players themselves and how they decide to shape the political map of the game.
Work for the good of your country and see it rise to an empire.
Activities in this game are divided into several modules. First is the economy as a citizen in a country of your choice you must work to earn money, which you will get to spend for example, on food or purchase of weapons which are critical for your progress as a fighter. You will work in either private companies which are owned by players or government companies which are owned by the state. After progressing in the game you will finally get the opportunity to set up your own business and hire other players. If it prospers, we can even change it into a joint-stock company and enter the stock market and get even more money in this way.
In E-Sim, international wars are nothing out of the ordinary.
"E-Sim is one of the most unique browser games out there"
Become an influential politician.
The second module is a politics. Just like in real life politics in E-Sim are an extremely powerful tool that can be used for your own purposes. From time to time there are elections in the game in which you will not only vote, but also have the ability to run for the head of the party you're in. You can also apply for congress, where once elected you will be given the right to vote on laws proposed by your fellow congress members or your president and propose laws yourself. Voting on laws is important for your country as it can shape the lives of those around you. You can also try to become the head of a given party, and even take part in presidential elections and decide on the shape of the foreign policy of a given state (for example, who to declare war on). Career in politics is obviously not easy and in order to succeed in it, you have to have a good plan and compete for the votes of voters.
You can go bankrupt or become a rich man while playing the stock market.
The international war.
The last and probably the most important module is military. In E-Sim, countries are constantly fighting each other for control over territories which in return grant them access to more valuable raw materials. For this purpose, they form alliances, they fight international wars, but they also have to deal with, for example, uprisings in conquered countries or civil wars, which may explode on their territory. You can also take part in these clashes, although you are also given the opportunity to lead a life as a pacifist who focuses on other activities in the game (for example, running a successful newspaper or selling products).
At the auction you can sell or buy your dream inventory.
E-Sim is a unique browser game. It's creators ensured realistic representation of the mechanisms present in the real world and gave all power to the players who shape the image of the virtual Earth according to their own. So come and join them and help your country achieve its full potential.
Invest, produce and sell - be an entrepreneur in E-Sim.
Take part in numerous events for the E-Sim community.