Article
★

Argentina Org
Redactor
El Fiasco de Kidd Feo y El resplandor de un nuevo mañana... (Event related)
Posted 3 years ago by
★

Argentina Org
Report
¿Ustedes que Opinan?
60.0 %
El mes que viene declara como arrepentido y se vuelve a postular
23.33 %
Me indigna
16.66 %
No vuelvas más
Total votes: 30
Día 1755

Escrito por:
Senado de la Nacion Argentina Presidente de la Nacion

Día 1755 Bueno, que les puedo decir... como ya lo sabrán a partir del día 1754 el gobierno paso a manos de
★

Kidd Keo con 19 votos de dudosa procedencia, hoy día 1755 el congreso decidió quitarle sus atributos de presidente y después de ser descubierto haciendo raros movimientos durante el tratado con
Uruguay Org Según el cual se le daría una cifra sin determinar de armas a Uruguay.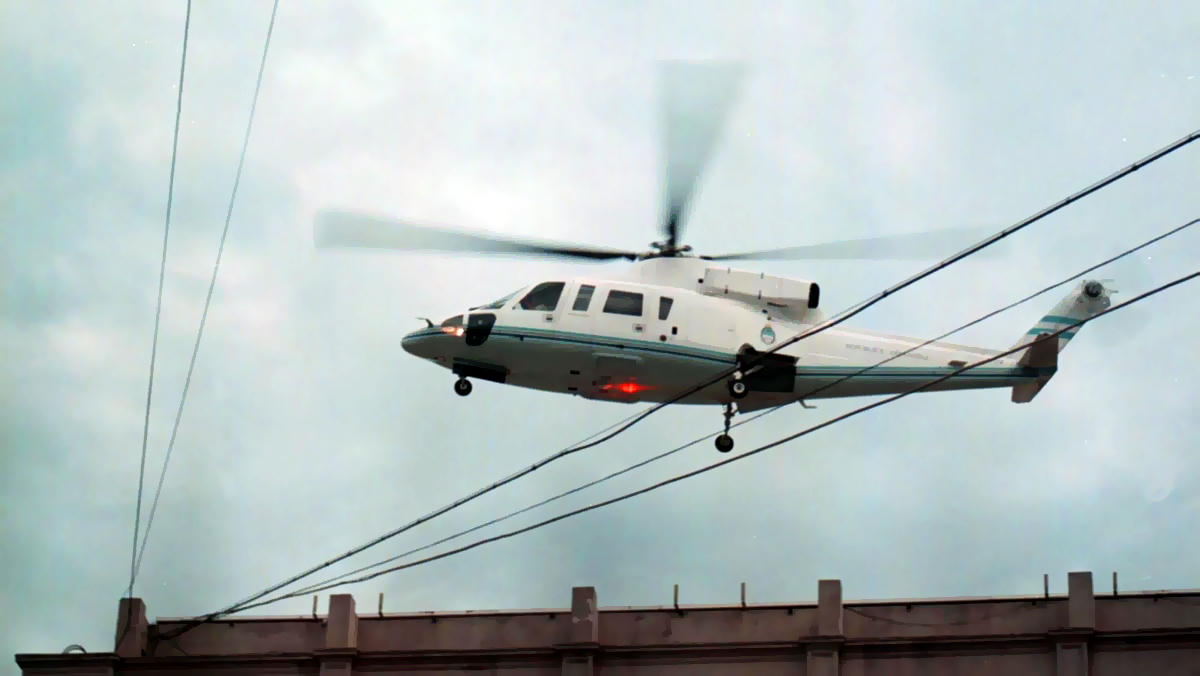 ★

Kidd Keo Abandona la Casa de Gobierno


Luego de esperar una eternidad a que el acusado se presentara a declarar en la sala principal del canal por dichas irregularidades, los principales personajes del servidor notaron algo que por muy obvias razones estaba apunto de ocurrir…


A Conra2 obviamente el mensaje de la ORG no le gusto nada

Como era de esperar no apareció, pero después de un rato de investigación y con las pruebas en la mesa ¿adivinen que?

El peron del nuevo siglo


Como era de esperar gracias a todos los 19 inútiles que votaron por el infeliz que nos traiciono en reiteradas ocasiones, el cual también lo menciono durante su campaña, la ORG fue saqueada después de tanto trabajo por parte del gabinete anterior, como es típicamente en Argentina se tiende a culpar al presidente por los errores, pero en la e-Argentina tanto el presidente como la gente que lo voto son culpables de lo sucedido.


Desde un principio esto termino mal, dada la Incapacidad del Electo Presidente para realizar sus labores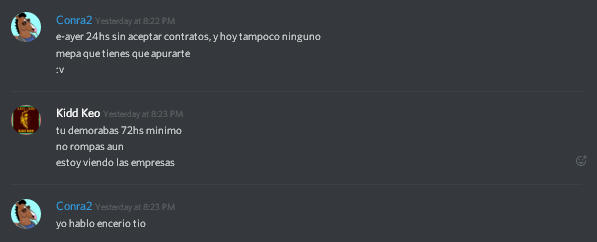 pero era lógico, a todos nosotros se nos paso por la mente eso. pero como ustedes querían un cambio, esta bueno que lo conozcan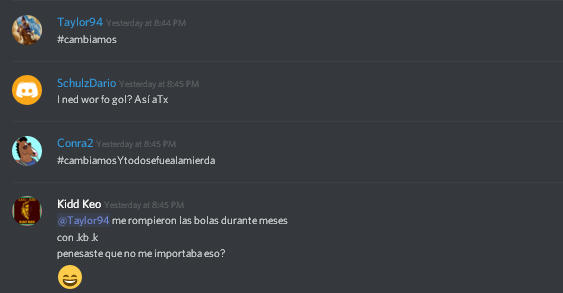 Lo mas lógico seria que todos ustedes sufran lo que tanto anhelaban, eso a lo que tanto defendían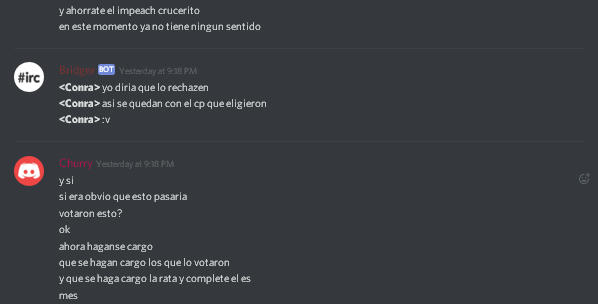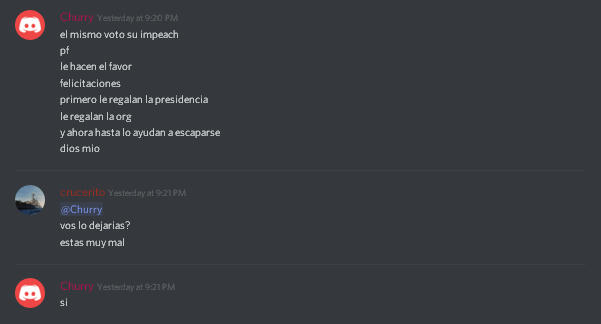 pero el necesitaba huir de una u otra manera, así que recurrió a la extorsión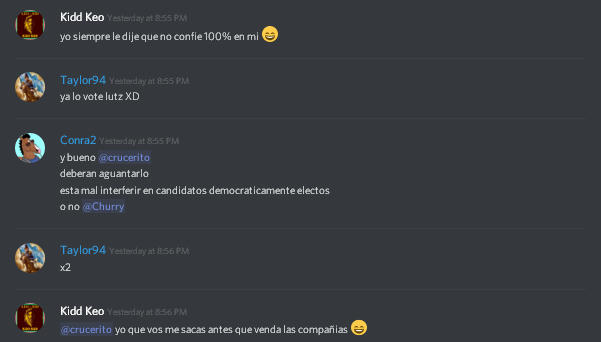 por obvias razones no pudimos arriesgarnos mas así que actuamos... pero escapo, aunque ¿ahora que?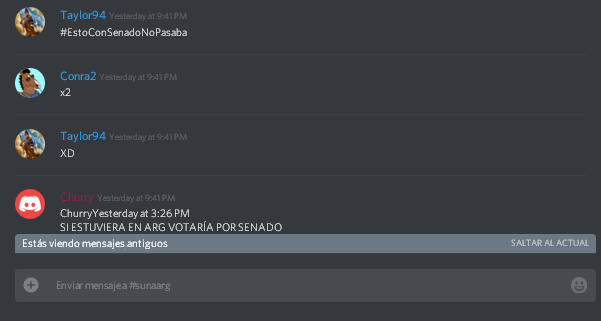 Un nuevo líder era proclamado

Senado de la Nacion Argentina : tal vez moleste que todo esto pase como una anécdota mas que una tragedia, pero a mi parecer este país las vio mucho peor, ahora solo nos queda luchar y reconstruir todo lo desecho, y espero grupo de irresponsables que hallan aprendido algo de este día...


Ustedes forjan su destino, la prole del pueblo siempre será eso, después estamos nosotros para arreglar sus errores antes de que se pongan a llorar.

yo por parte tambien soy culpable, ya que si no me ubiera postulado por mi lado solo por competencia por creer que nadie votaria a ese sujeto esto no hubiera pasado... bah, no... bueno no digo nada.


¿Que que paso con

★

Kidd Keo ?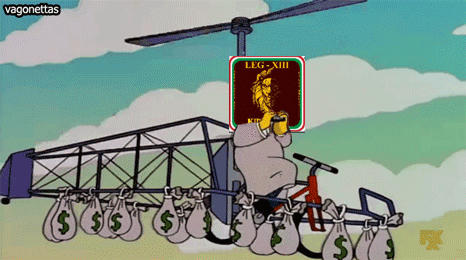 Previous article:
Resumen general de salarios y precios / Periodo: Mayo - Junio
(4 years ago)
Next article:
The best gold salary on the server! Work for Argentina ORG!
(3 years ago)
About the game:
USA as a world power? In E-Sim it is possible!
In E-Sim we have a huge, living world, which is a mirror copy of the Earth. Well, maybe not completely mirrored, because the balance of power in this virtual world looks a bit different than in real life. In E-Sim, USA does not have to be a world superpower, It can be efficiently managed as a much smaller country that has entrepreneurial citizens that support it's foundation. Everything depends on the players themselves and how they decide to shape the political map of the game.
Work for the good of your country and see it rise to an empire.
Activities in this game are divided into several modules. First is the economy as a citizen in a country of your choice you must work to earn money, which you will get to spend for example, on food or purchase of weapons which are critical for your progress as a fighter. You will work in either private companies which are owned by players or government companies which are owned by the state. After progressing in the game you will finally get the opportunity to set up your own business and hire other players. If it prospers, we can even change it into a joint-stock company and enter the stock market and get even more money in this way.
In E-Sim, international wars are nothing out of the ordinary.
"E-Sim is one of the most unique browser games out there"
Become an influential politician.
The second module is a politics. Just like in real life politics in E-Sim are an extremely powerful tool that can be used for your own purposes. From time to time there are elections in the game in which you will not only vote, but also have the ability to run for the head of the party you're in. You can also apply for congress, where once elected you will be given the right to vote on laws proposed by your fellow congress members or your president and propose laws yourself. Voting on laws is important for your country as it can shape the lives of those around you. You can also try to become the head of a given party, and even take part in presidential elections and decide on the shape of the foreign policy of a given state (for example, who to declare war on). Career in politics is obviously not easy and in order to succeed in it, you have to have a good plan and compete for the votes of voters.
You can go bankrupt or become a rich man while playing the stock market.
The international war.
The last and probably the most important module is military. In E-Sim, countries are constantly fighting each other for control over territories which in return grant them access to more valuable raw materials. For this purpose, they form alliances, they fight international wars, but they also have to deal with, for example, uprisings in conquered countries or civil wars, which may explode on their territory. You can also take part in these clashes, although you are also given the opportunity to lead a life as a pacifist who focuses on other activities in the game (for example, running a successful newspaper or selling products).
At the auction you can sell or buy your dream inventory.
E-Sim is a unique browser game. It's creators ensured realistic representation of the mechanisms present in the real world and gave all power to the players who shape the image of the virtual Earth according to their own. So come and join them and help your country achieve its full potential.
Invest, produce and sell - be an entrepreneur in E-Sim.
Take part in numerous events for the E-Sim community.