Many here, surely meet one of the most famous pilots in all history, idolized by decades, his name is a memory of honor, his nickname the reason that many remember him, and his death so disconcerting that until the day today is complicated to determine, of course, I'm talking about
Manfred Albrecht Freiherr von Richthofen
or better known as
The Red Baron
by the coloring of his plane, getting more than 80 shots and with the peculiarity of letting his enemies escape when they were badly wounded.
But, what does this have to do with the SGM, if "The Red Baron" died in the First World War?
I'll change that question:
Do you know any famous pilot of the Second World War?
(For those who are not fanatics of the Second World War surely they will not know any, or maybe one or two)
So...
Which pilot was famous in World War II, and why?
Well, there is not just one, but one of the best known is...
Erich Alfred "Bubi" Hartmann or "The Black Devil" for his Soviet enemies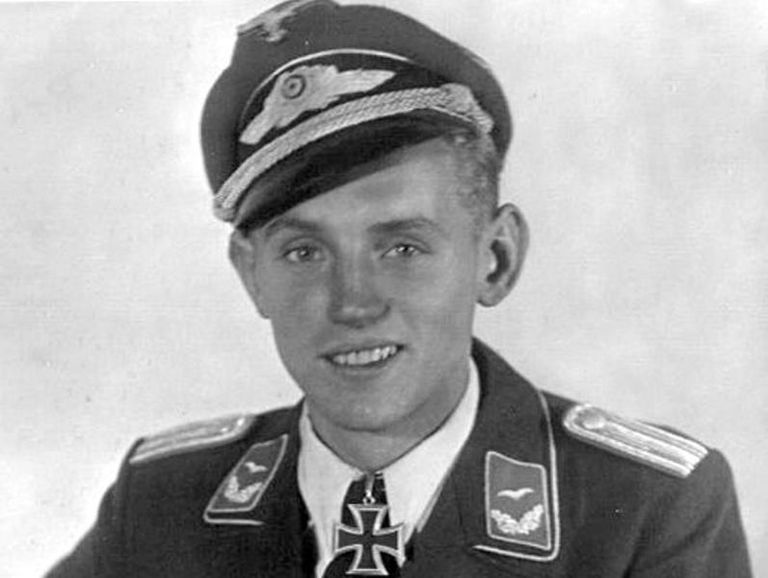 Erich Hartmann
Hartmann was a German fighter pilot and was also commander of the first post-war fighter unit in Germany.
He was born on 4/19/1922 in Weissach, Germany, but he would not spend his first years there, when in Germany the economic chaos came after the First World War, Hartmman immigrated along with his father to the city of Changsha in China, then in In 1928, he returned to Germany due to the outbreak of the Chinese Civil War.
Dr. Alfred Hartmann and Elisabeth Machtholf, parents of Hartmann
Then, Hartmann began training as a pilot in the Luftwaffe along with his mother who was his flight instructor.
In case, their family was so rich that they had their own glider, but due to the economic depression they had to sell it later ... By 1933, they would focus on flight instructions, until their mother created a school for it.
At the age of 14 he became an instructor in 1936.
In 1939 Hartmann obtained his pilot aviator license and began his military training on October 1, 1940 in several Luftwaffe centers, among others the "10th Training Regiment" in Neukuhren, in East Prussia, and the "War School" Aerial "in Berlin. He learned to fly the Messerschmitt Bf 109, a plane with which he would obtain his victories, at the school for fighter pilots in Zerbst.
Upon completion of his advanced training, Hartmann was assigned in October 1942 to the Jagdgeschwader 52 (JG52), which became the most successful air combat unit in history.
In the JG52 Hartmann had the benefit of flying with many of the most important aces of the war. He made his first combat mission on October 14, flying as Paule Rossmann's escort (93 wins). The mission was a disaster for Hartmann. Ignoring the orders of his leader, he attacked a Soviet formation and when his shots failed he found himself surrounded by enemies, having to escape hiding in the clouds. Finally his plane ran out of gas and was forced to make a forced landing. He won his first aerial victory on November 5, 1942, when he knocked down an Ilyushin Il-2 Shturmovik. During the rest of 1942 he only managed to count one more victory.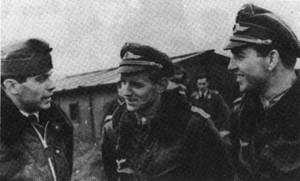 Hartmann (center) with Gerhard
Some warplanes of Hartmann

The most famous of Hartmann
Hartmann was assigned to 7./JG52 to serve as an escort to Walter Krupinski (197 wins), who became his mentor and friend.
Krupinski was the one who gave him the nickname "Bubi"
, with which he would be known all his life and also who taught him to be patient and wait until he was a short distance from the enemy before opening fire. On July 7, 1943, he shot down seven planes in a single day during the massive air battles that took place during the Battle of Kursk. At the beginning of August it already had 50 victories and during the month it obtained 48 additional victories. In September he was named Staffelkapitän (squad leader) of 9./JG52.
On August 19, 1943, the Hartmann squadron was ordered to support a counterattack with Ju-87 Stukas led by Hans-Ulrich Rudel. During the combat Hartmann knocked down two enemy planes, but pieces of the fuselage of one of his victims hit his plane, forcing him to make a forced landing in enemy territory. When seeing Hartmann that Soviet soldiers approached to capture it, it pretended to have suffered internal wounds. The Russian soldiers put him on a stretcher and put him on a truck to be transported. The Soviet column, however, was attacked by the Studes of Rudel and in the confusion Hartmann jumped from the back of the truck and hid in a field of sunflowers, managing to lose his followers. He hid until nightfall and started back toward the German lines. Upon reaching a German sentry post, one of the soldiers at the post shot him, but the bullet pierced his pants without hurting him.
During the month of October Hartmann won 33 more victories and on October 29, 1943, totaling 148 victories, he was decorated with the Cross of the Knight of the Iron Cross. He finished the year with 159 victories.
On September 10, 1944, Hartmann married his girlfriend since childhood, Ursula "Ursel" Paetsch. The witnesses of the wedding were Barkhorn and Batz.
Hartmann with her wife Ursula
On May 24, 1945, the US Army handed Hartmann over to the Soviets, following the agreements of the Yalta Conference, which specified that German soldiers who fought against the Soviets had to surrender to them. If Hartmann had joined JV 44, this agreement would not have been applied to him, since unit JV 44 fought exclusively against the Western allies.
The Soviets tried to convince Hartmann to collaborate and to spy on other officers who were prisoners with him. When he refused, he was mistreated and placed in solitary confinement. He was interrogated repeatedly about his knowledge of the Messerschmitt Me 262, even threatening the life of his wife. There were also subtle attempts to convert him to communism and offers for a position in the East German Air Force.
Unable to make Hartmann a collaborator, the Soviets opted to accuse him of war crimes. He was accused of killing 780 civilians in the town of Brjansk, attacking a bread factory and destroying 352 "costly" planes of the Soviet people (actually there were 345, since 7 victories were against the USAF). Hartmann refused to accept any fault and was sentenced to 25 years of forced labor. He refused to work, so he was placed in solitary confinement. Several prisoners rebelled and released him, but once the rebellion was put down, he spent five more months alone. During his captivity his son died, whom he never saw. (PS: I couldn't find any img of his son)
After ten and a half years of captivity in Russian gulags, he was finally released in 1955 when the government of West Germany and the Soviet Union reached a trade agreement that included clauses for the liberation of the last German prisoners of war in the Soviet Union.
In 1997 the government of Russia, legal successor of the Soviet Union, exonerated Erich Hartmann of all charges against him, admitting that his conviction had been illegal.
Erich Hartmann enlisted in the Luftwaffe (Bundeswehr) of West Germany, where he was given command of the first post-war jet aircraft unit, the Jagdgeschwader 71 "Richthofen". The unit was equipped with Canadair Saber aircraft, a Canadian version of the F-86 Saber, which were painted with the tip in the black tulip design worn by Hartmann during the war.
Subsequently the JG71 "Richthofen" was equipped with Lockheed F-104 Starfighter aircraft.
Hartmann strongly and publicly opposed the adoption of this aircraft as unsafe and poorly designed. His opposition to the plane brought him serious difficulties with his superiors, which made it impossible for him to continue as commander of the unit. He retired from military life in 1970. The operational record of the F-104s validated Hartmann's opinion, as the plane suffered 282 accidents and cost the lives of 115 pilots while in service with the Luftwaffe (Bundeswehr).
He worked as a flight instructor before joining an acrobatic flight team led by Adolf Galland.
After an illness, he left the team and rededicated himself to the flight instruction.
Erich Hartmann, the greatest aviation ace in history, died on September 20, 1993 at the age of 71.
With this I end my art, mi mas lindo saludo.
MD Bismarck
Previous article:
WW2 Histories #3 "El Baron Rojo de la SGM" (Español)
(7 months ago)
Next article:
WW2 Histories #4 "La muerte blanca"
(7 months ago)