Article
Delikan
Redactor
Tomris Hatun Kimdir? (Political)
Posted 3 years ago by
Delikan
Report
Tomris Hatun dünyanın ilk kadın hükümdarıdır. Tomris öz Türkçede demir demektir. M.Ö XI.yy'da yaşamıştır. Saka Türklerinin başında bir kağandır.
Sakalar yani İskitler'de aktif orduda kadınların da bolca bulunduğu bir gerçektir. İskit diyarlarında silahlarıyla gömülmüş çok sayıda kadın kurganı(mezarı) bulunmuştur.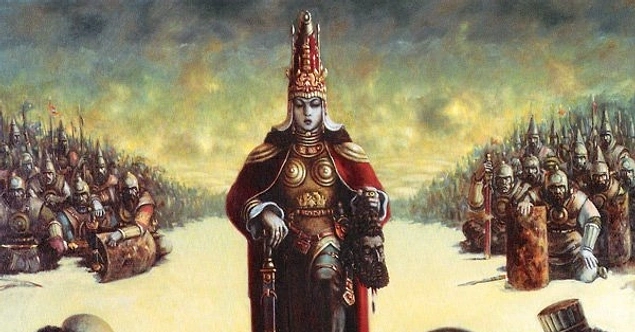 Tomris Hatun, barışçıl ama savunmaya önem veren bir yapıya önem gösterirdi. Bunu bir zayıflık olarak gören Pers İmparatoru Büyük Kiros ise hiç durmadan Saka topraklarına akınlar düzenlerdi. Persler saka topraklarına girdiği vakit yakılmış tarlalardan başka bir şey bulamazlardı; çünkü Sakalar geri çekiliyor ve savaş için uygun bir mevzi ve an bekliyorlar, bu olmadığı takdirde de savaşa girişmiyorlardı. İlerlemek için gıdaya ihtiyaç duyan persler iran'a geri dönmek zorunda kalıyorlardı.
Sakaların peşinde koşmaktan yorulan Kiros, bir süre sonra Tomris Hatun'un kendisine tabî olması ve kendisiyle evlenmesi karşılığında Sakalar ile uğraşmayacağını vaad eder. Tomris Hatun bunun bir oyun olduğunu anlar ve teklifi reddeder. pers hükümdarı, aldığı ret cevabından sonra çok kızar ve Tomris Hatun'a savaş açar. Saka topraklarına kalabalık bir ordu savaş için eğitilmiş yüzlerce köpekle girer. Tomris Hatun uygun bir alan seçip, büyük Kiros'un ordusunu beklemeye başlar. İki ordu, aralarında birkaç kilometre kalacak biçimde birbirine yaklaşır ve güneş battığı için savaşa tutuşmayıp mevzilenir.
İSKİT/SAKA TOPRAKLARININ HARİTASI
Ancak mertçe savaşmak yerine alçaklığı tercih eden Pers İmparatoru Büyük Kiros bir hile düşünür ve iki ordunun arasında bir çadır kurdurur. İçinde güzel kızlar ve yiyecekler ve şarap bulunan çadıra ansızın saldırı düzenleyen Tomris Hatun'un oğlu ve beraberindeki kuvvetler, içerideki Persleri öldürüp eğlenceye dalarlar. ancak birkaç saat sonra bir baskın düzenleyen Pers kuvvetleri çadırı basıp Tomris Hatun'un oğlu da olmak üzere içerideki sakaları öldürürler. Tomris çok sevdiği oğlunun ölümüne üzülür. yemin ederek şöyle söyler: " Kana susamış Kirus! sen oğlumu mertlikle değil o içtikçe zıvanadan çıktığın şarapla öldürdün. ama güneşe yemin ederim ki seni kanla doyuracağım! "
Ertesi gün yapılan ve bizzat Tomris Hatun'un yönettiği savaşı sakalar kazanır. Ok atmakta usta olan ve savaş arabalarını büyük ustalıkla kullanan Sakalar, savaş köpeklerine rağmen Persleri bozguna uğratır. ölenler arasında Pers Kralı Büyük Kiros da vardır. Pers Kralı'nın bedeni getirilince Tomris Hatun kılıcı ile kafasını kopararak kan dolu bir tulumun içine atar ve tarihe geçen şu sözleri söyler "hayatında kan içmeye doymamıştın, şimdi seni kanla doyuruyorum!"*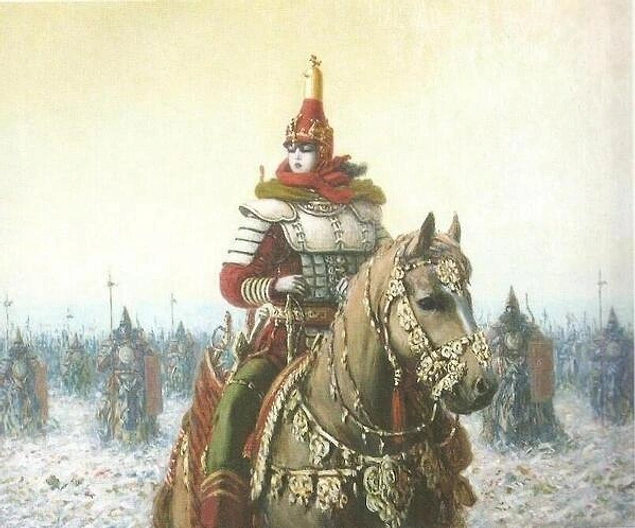 Kaynaklar:
emrullah özdemir / türklerin ilk kadın hükümdarı tomris
adolf erman / archiv fur wissenschaftliche kunde von russland, cilt 1, reimer, 1968, s.386
Next article:
Battle of Sakarya with Photos/Fotoğraflarla Sakarya Meydan Muharebesi(Turkey-Greece)
(3 years ago)
About the game:
USA as a world power? In E-Sim it is possible!
In E-Sim we have a huge, living world, which is a mirror copy of the Earth. Well, maybe not completely mirrored, because the balance of power in this virtual world looks a bit different than in real life. In E-Sim, USA does not have to be a world superpower, It can be efficiently managed as a much smaller country that has entrepreneurial citizens that support it's foundation. Everything depends on the players themselves and how they decide to shape the political map of the game.
Work for the good of your country and see it rise to an empire.
Activities in this game are divided into several modules. First is the economy as a citizen in a country of your choice you must work to earn money, which you will get to spend for example, on food or purchase of weapons which are critical for your progress as a fighter. You will work in either private companies which are owned by players or government companies which are owned by the state. After progressing in the game you will finally get the opportunity to set up your own business and hire other players. If it prospers, we can even change it into a joint-stock company and enter the stock market and get even more money in this way.
In E-Sim, international wars are nothing out of the ordinary.
"E-Sim is one of the most unique browser games out there"
Become an influential politician.
The second module is a politics. Just like in real life politics in E-Sim are an extremely powerful tool that can be used for your own purposes. From time to time there are elections in the game in which you will not only vote, but also have the ability to run for the head of the party you're in. You can also apply for congress, where once elected you will be given the right to vote on laws proposed by your fellow congress members or your president and propose laws yourself. Voting on laws is important for your country as it can shape the lives of those around you. You can also try to become the head of a given party, and even take part in presidential elections and decide on the shape of the foreign policy of a given state (for example, who to declare war on). Career in politics is obviously not easy and in order to succeed in it, you have to have a good plan and compete for the votes of voters.
You can go bankrupt or become a rich man while playing the stock market.
The international war.
The last and probably the most important module is military. In E-Sim, countries are constantly fighting each other for control over territories which in return grant them access to more valuable raw materials. For this purpose, they form alliances, they fight international wars, but they also have to deal with, for example, uprisings in conquered countries or civil wars, which may explode on their territory. You can also take part in these clashes, although you are also given the opportunity to lead a life as a pacifist who focuses on other activities in the game (for example, running a successful newspaper or selling products).
At the auction you can sell or buy your dream inventory.
E-Sim is a unique browser game. It's creators ensured realistic representation of the mechanisms present in the real world and gave all power to the players who shape the image of the virtual Earth according to their own. So come and join them and help your country achieve its full potential.
Invest, produce and sell - be an entrepreneur in E-Sim.
Take part in numerous events for the E-Sim community.